Monitor price and stock of your competitors, adjust your prices, and increase your sales and profits.
Access valuable competitive information and get the intelligence you need to decide on your pricing strategy.
Keep track of the trends and discover your competitors' strategy to stay one step ahead of the game.
Start tracking prices of your competitors in any country, currency or online shop, on a daily basis.
Start a 14-days free trial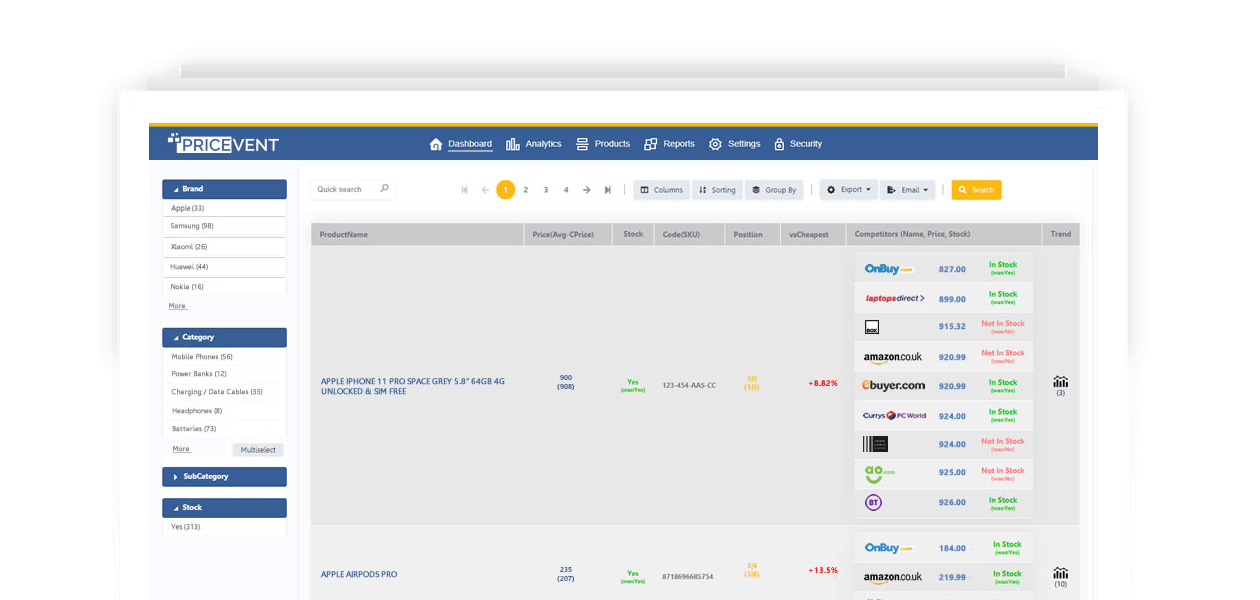 Meet PriceVent!
A powerful competitor monitoring solution that set your business up for long-term growth.
The world is shifting! So is pricing. In today's marketplace, a cohesive pricing strategy is the key driver for growth and success. How can PriceVent help? First, it can offer you deep insights about the competitive situation so that you can easily find the middle ground and preserve margins.
Second, with access to valuble pricing intelligence based on real time data you can understand the market and make educated pricing changes at speed and scale. Once you finnaly put toghether an effective pricing strategy, step into the future of pricing automation.
Getting started with PriceVent
There are four main steps when it comes to using PriceVent. This is how it works.
Data import

Jump-start your implementation by entering competitors' products into PriceVent.

Data collecting

Competitors prices are crawled and dashboards are created and populated with the colected data.

Data reporting

Develop custom made reports with simple or complex charts, by brand, category, or competitor.

Alerts

Configure alerts to know when prices, products or stock changes are made by your competitors.
Explore our add-ons and extra features
Supercharge your PriceVent!
Step up your pricing game with additional modules or options that can be added on demand.
You've got questions? We have answers!
We put togheter a list of FAQ where you can find the answers for the most common questions asked by our customers.
What is the maximum number of products I can monitor?
With the Premium plan you can monitor up to 10000 products, but we can virtually track any number of products. If you have more than 10000 products you want to monitor send us a message and we will make a custom plan for you.
How many times per day do you update my competitor prices?
Depending on your plan we can update your competitor prices between 1 and 2 times per day. We have an options for less than one time per day if you are in a business where doesn't make sense to update more often or multiple times a day, if you are in very competitive markets where you need for example hourly price tracking. For a custom plan send us a message and we will find the right solution to your needs.
Can you handle multiple currencies? (€, £, $, etc.)
Yes, we do. As our solution is a worldwide platform addressing any market in the world. We can captures prices in any currency you desire. Depending on your settings, you can display the price in it's original currency, or converted to another currency, using an exchange rate.
Can my competitors find that I'm tracking their prices?
All the work is made on our servers. So, no. They will never know you are watching them!
Can I try before buying?
Yes, we offer a 14 days free trial. No credit cards or contracts asked during your trial.
Get all the answers
Discover all the topics and learn more from the answers we put togheter for you.
View all
Questions? Get in touch!
Reach to us using our contacts or open up the chat and get live help. Most of the time we are online!
Small, medium and large sized companies from across the world monitor prices with PriceVent.
PriceVent works great in United States as well as in other 194 countries.














Don't miss out on our monthly newsletter! Get expert advice delivered straight to your inbox.
Ready to get started with PriceVent?
It's time to set your business up for long-term growth. Fill in the form with your personal information and let us help you step ahead your competitors.
Start a 14-days free trial